99% of RHAPSODY patients chose to be treated with ARCALYST in the long-term extension (LTE)1,2
74 of 75 eligible patients chose to enter the LTE: 59 directly from the randomized-withdrawal (RW) period and 15 from the run-in (RI) period after enrollment in the RW period closed

A total of 52 patients reached the prespecified 18-month decision milestone while on ARCALYST
18 months after the most recent pericarditis recurrence (qualifying or RW period), a decision was made for each LTE patient, based on clinical status and investigator discretion to:
Continue ARCALYST on study
Suspend ARCALYST and remain on study for observation (ARCALYST rescue allowed for recurrence)
Discontinue from the LTE completely with no further observation
Open-label ARCALYST 160 mg SC weekly (n=74)
Continued open-label ARCALYST (n=33)
Off-treatment observation (n=8)
LTE participants received a median of ~2 years of ARCALYST treatment in RHAPSODY (median of 23 months of treatment and a maximum of 35 months from RI baseline).
SC, subcutaneous.*22 patients discontinued the LTE prior to reaching the 18-month decision milestone; 18 US participants transitioned to commercial ARCALYST at the time of US approval; 4 (US/ex-US) participants due to: lost to follow-up (1), adverse event (2), and withdrawal of consent (1).3
Consistent results: continued ARCALYST treatment resulted in continued recurrence prevention (LTE period)
Efficacy up to the 18-month decision milestone1
Pericarditis recurrences remained low

Annualized incidence of recurrence during 1.5 years on ARCALYST treatment: 0.04 events per patient-year†

2 orders of magnitude lower than 4.4 events per patient-year during the 2.5 years (mean) of disease history prior to entry into the trial‡
Efficacy past the 18-month decision milestone1,2
98%
reduction in risk of recurrence1 (hazard ratio: 0.02; P<0.0001)
The only recurrence in the group treated with ARCALYST was associated with a treatment interruption of 4 weeks.
Efficacy past the 18-month decision milestone1,2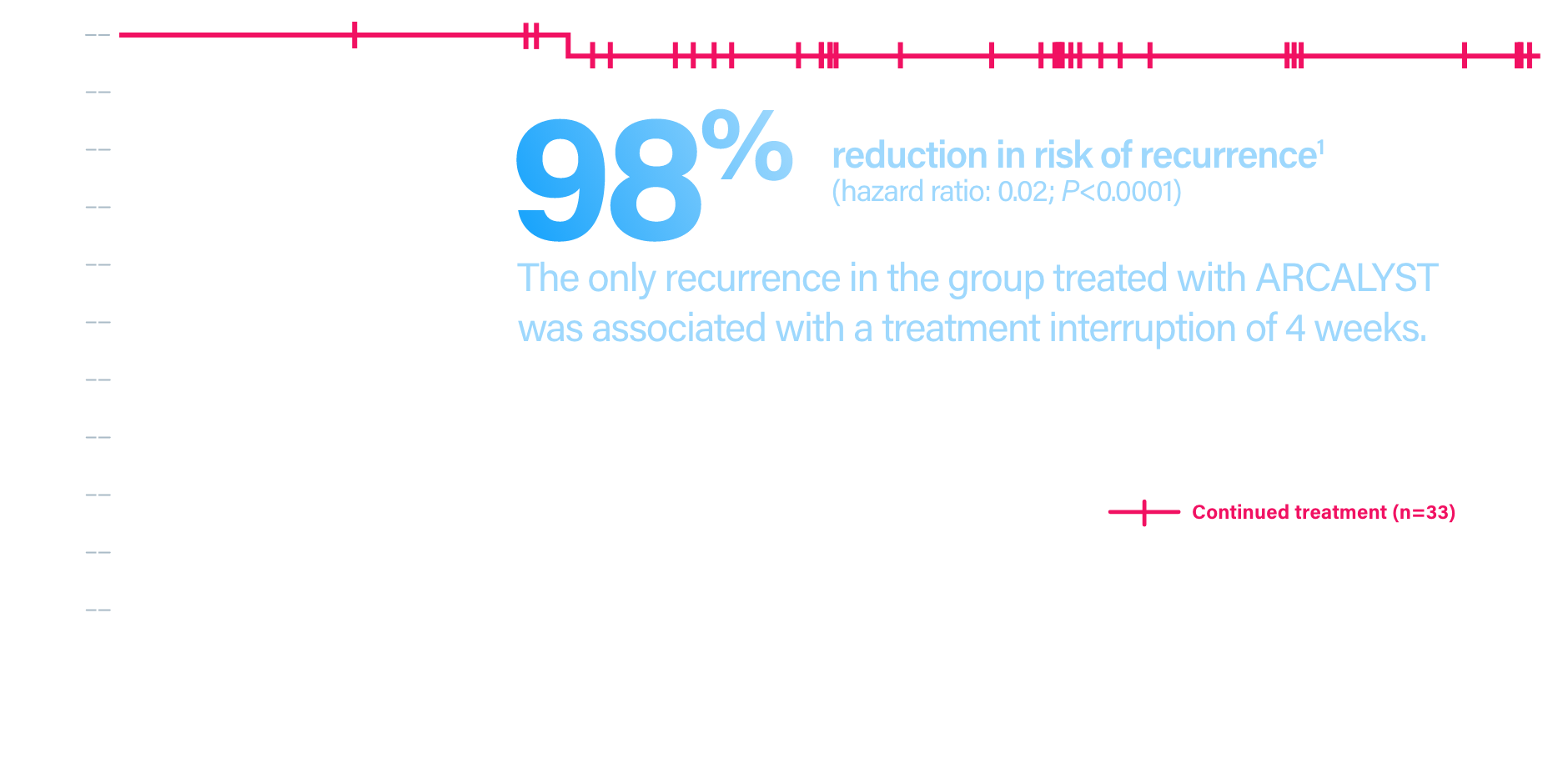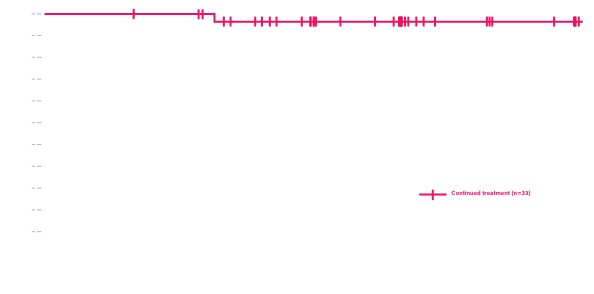 Recurrence rate was 3.0% (1/33) in patients who continued ARCALYST treatment
Recurrence rate was 75% (6/8) in patients who suspended ARCALYST treatment for observation
These results are consistent with the primary end point of RHAPSODY: 96% reduction in risk of recurrence vs placebo during the RW period (hazard ratio: 0.04; P<0.0001).
†Only 3 investigator-assessed recurrences were reported.
‡While being treated with nonsteroidal anti-inflammatory drugs, colchicine, or corticosteroids, alone or in combination.
LTE safety
In the LTE period (n=74), 62 patients (83.8%) experienced any treatment-emergent adverse event (TEAE), 5 patients (6.8%) experienced a serious TEAE related to study drug, 3 patients (4.1%) discontinued treatment, and there were no adverse events leading to death.