Comprehensive support throughout the entire treatment experience

Comprehensive support throughout the entire treatment experience

Steps to initiate ARCALYST treatment.
Follow these steps to begin your patient's ARCALYST treatment process. Please remember that each patient has unique needs and additional steps may be required.
Step 1
Ensure your patient's vaccination history is up to date, including pneumonia and flu vaccines.
Refer to current practice guidelines for evaluation and treatment of possible latent tuberculosis infections before initiating therapy with ARCALYST. 
Treatment with ARCALYST should not be initiated in patients with an active or chronic infection.
Step 2
ENROLLMENT FORM COMPLETION
Enrollment Form will be provided by your Kiniksa Clinical Sales Specialist or available for download below. 
Fax completed Enrollment Form to Kiniksa OneConnect™ at 1-781-609-7826.
Step 3
Your patient will be contacted by Kiniksa OneConnect to help arrange delivery from select specialty pharmacies.
Kiniksa OneConnect will work with your patients to set up one-on-one injection training sessions with a healthcare professional or ARCALYST Clinical Educator, with options to meet in person or virtually.
Kiniksa OneConnect can help your patients with their treatment needs. 

93
%
of prior authorization requests have been approved*
of ARCALYST therapy is the duration most commonly approved by commercial plans

98
%
of commercially insured patients prescribed ARCALYST and enrolled in Kiniksa OneConnect have paid no more than $10/month†
*Based on final coverage approval.
†From approval in March 2021 to November 2022.
There may be several steps to obtaining approval for your patient's treatment with ARCALYST. The downloadable resources below were developed to help simplify this process by providing information about gaining access to ARCALYST, understanding reimbursement claims, and working with a specialty pharmacy.
Access
The following downloadable resources can help guide you through the steps to product access.
Additional resources
Resources for information about access to ARCALYST as well as clinical information
and guidance for patients.
Kiniksa OneConnect is a support program made up of a team of experienced individuals, known as Patient Access Leads, with knowledge of insurance plans and healthcare networks.
Patient Access Leads
Once enrolled in Kiniksa OneConnect, you and your patient will be paired with a dedicated Patient Access Lead based on geographic location. They will work to provide personalized one-on-one support throughout their entire treatment experience.
ARCALYST Clinical Educators
ARCALYST Clinical Educators can conduct sessions to help provide your patients with training on the injection process.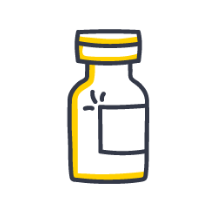 Beginning treatment
Navigates patients through their insurance coverage and partners with your practice. 
Coordinates, verifies, and explains the benefits verification process
Provides guidance on the prior authorization process
Helps coordinate delivery of your patient's therapy from select specialty pharmacies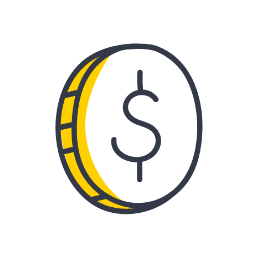 Financial assistance
Helps identify possible sources of support including a commercial copay assistance program that may be able to reduce out-of-pocket costs to as low as $10 per month for eligible patients.* 
The Quick Start program supports eligible patients with delay in coverage for treatment initiation while awaiting prior authorization at no cost†
The Patient Assistance Program supports qualified patients with no coverage for treatment‡
*To be eligible for the Kiniksa Copay Assistance Program, your patients must have commercial insurance, must not have Medicare, Medicaid, or other government insurance, and must meet other eligibility criteria. Your patient also must agree to the rules set forth in the terms and conditions for the program. Please visit kiniksapolicies.com/copay to review additional eligibility criteria.
†Program offered for up to 60 days. To be eligible for the Kiniksa Quick Start Program, your patient must meet certain financial eligibility requirements. Please visit kiniksapolicies.com/qstart to review additional eligibility criteria.
‡Program offered for up to 12 months. Please visit kiniksapolicies.com/pap to review additional eligibility criteria.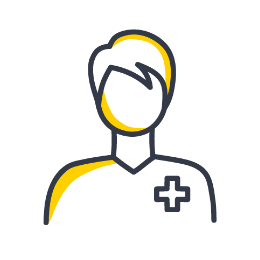 Treatment support
Provides access to ARCALYST Clinical Educators who are trained in both disease state and ARCALYST administration. There are multiple injection training options including:
In-office training by you or your office staff
Virtual and in-person training options from an ARCALYST Clinical Educator
Ongoing treatment support to help prevent treatment interruptions and provide additional resources as needed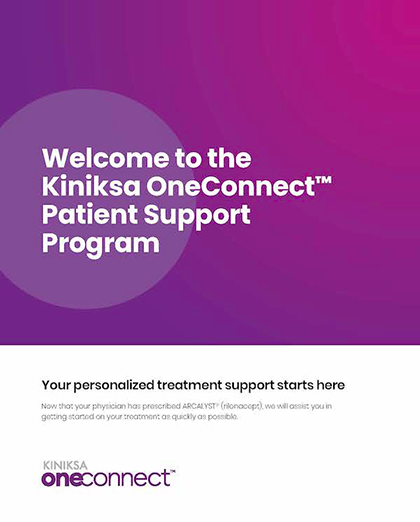 Help your patients learn more about our services.